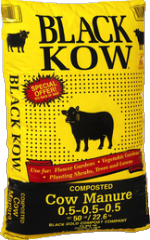 Black Kow
The Composted Cow Manure all-natural, organic way to improve native soils is by using Black Kow® composted cow manure. By mixing Black Kow® cow manure with your native soil before planting, you do 3 important things:
Provide moisture holding capacity to sandy soils. Black Kow cow manure holds water and nutrients in the soil around the roots. The roots can use the water and nutrients when needed instead of letting the nutrients leach through the soil.
Provide aeration and moisture holding capacity to hard, clay-type soils. Black Kow® cow manure helps break up those soils so that water and nutrients are available to the plant when needed.
Give your plant's roots the optimum environment in which to get started. Black Kow® cow manure contains millions of beneficial bacteria. These bacteria convert nitrogen and other nutrients into an easily available form for the plant. It is organic and contains nutrients that are released slowly without burning tender roots. These nutrients and moisture are held in the soil around roots until the plant needs them.
Also Available:
Black Kow Top Soil
is a naturally occurring blend of organic material from our Florida peat deposit. It's great for top-dressing entire lawns or just fixing bare spots. Mix with Black Kow® cow manure for planting trees and shrubs. Our top soil by the bag is Black Kow and comes in a 50lb bag – $4.69. Price subject to change.
Black Kow® Peat
is the newest product. This unique, organic product is made form dairy manure that is literally "washed" using a patented process. Though it is a peat-style replacement and has the same initial qualities (water retention, loft, appearance, etc.) this product is not a preservative like peat, but actually promotes a healthy soil substructure. Also, unlike other peat products, Black Kow Peat has nutrient value. These nutrients are non-soluble and don't wash away upon watering but are slowly released as the material naturally breaks down.